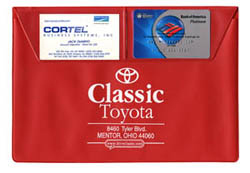 Document Case with Two Pockets on the Flap
Web Special!!!
$0.86 in quantities of 500 or more!!!
Request More Information ·

Size: 10" x 6-5/8"
Available in red, navy, green, black, white, royal, silver
Imprint Area: 6" x 3-1/2"
Imprint Colors: whte, red, green, blue, black, and etc.

250
500
1000
2500
5000
$1.02
$0.96
$0.90
$0.88
$0.86
Setup Charge: $0.00
Second Imprint: na
Special Information: Price includes up to 5 lines of straight line copy. Custom logos are $70.00. This popular document case Features two business card pockets on flap. Automotive dealers, realtors and banks find this item ideal for all their valuable documents.

---
Art Charges: When custom logos are required, please send complete camera ready black & white artwork to size (PMT preferred). Die costs are $60.00 for standard sizes. If you require additional typesetting to your supplied artwork, our art department will set & paste up, up to five lines at a nominal cost of $10.00.
Cancellation Fees: Please be aware that we work quickly once an order is received. Dies may be made or orders partially printed so charges may have accrued. We suggest that you call first and then fax a written request of cancellation as soon as possible to prevent any additional charges.
Copy Changes: If a single order has many copy changes there will be a charge of $10.00 per change. Note: If more than one custom logo is wanted per order, additional logos will be billed per custom logo charge (see section 6).
Less than Minimum: Orders for less than catalog minimum quantities are subject to an additional L.T.M. charge of $40.00. The minimum invoice for printed product is $60.00.
Over/Under Runs: All orders are subject to a 5% over/under runs, billable.
PMS Color Match Charges We have over 60 foil colors available for your hot-stamped imprint. Gold and Silver are the most popular and recommended colors. Please note that we are limited to the available industry foils and cannot match a PMS color via the hot stamping method. We will, however, try to match your color as close as possible from our large stock. To match an exact PMS color we recommend Silk Screening (see Silk Screening in section 8).
Production Time: Orders are shipped within 10 to 14 working days from receipt of order, and approval of artwork.
Product Proof: Paper proofs will be faxed to you upon request and billed at $20.00. Actual imprinted item proofs are mailed to you and billed at $30.00.
Rush Service: If you anticipate a rush order, please call us to see if we can meet your rush date before sending order. We will make every effort possible to ship your order when requested. Due to chance of errors we unfortunately do not accept orders over the phone. We do request that any orders be faxed or mailed into the factory.
Custom Samples: not applicable