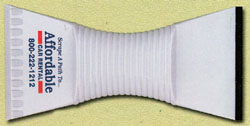 Combination ice scraper and squeegee
Request More Information ·

Size: 8" X 4"
Available in white
Imprint Area: 2 1/2" X 1 1/4"
Imprint Colors: black, red, royal blue, green, brown, purple, burgandy and etc.

150
300
500
1000
2500
$2.41
$2.30
$2.02
$1.77
$1.68
Setup Charge: $50.00
Second Imprint: $50.00 per color
Special Information: One end features a tough ABS plastic blade and ice chipper, the other end has a PVC window squeegee. Price includes a one color imprint. For the same one color imprint on both ends add $.20 each. Add $.20 each plus set-up charge for each additional imprint color.

---
Art Charges: $50.00 per hour with a minimum art charge of $25.00 for any changes or corrections that have to be made on submitted artwork.
Cancellation Fees: $20.00 charge if copy has been processed.
Copy Changes: $20.00 per change. Each change of copy must meet the minimum quantity specified.
Less than Minimum: The minimum quantity shown is the absolute minimum.
Over/Under Runs: 5% billable.
PMS Color Match Charges $32.00 for each color match. The order must be for 1000 pieces or more.
Production Time: Standard production is 10 to 15 working days.
Product Proof: $30.00 per imprint color plus the product cost.
Rush Service: $40.00. This service will be provided if our production permits, and the inventory is immediately available. Call for rush service availability.
Custom Samples: $30.00 per imprint color plus the product cost.