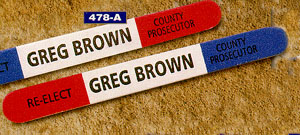 Red, White, and Blue Patriotic Emery Board
Request More Information ·

Size: 4 7/8 X 1/2
Available in red-white-blue
Imprint Area: 4 X 3/8
Imprint Colors: black

1500
3000
6000
12000
25000
$0.24
$0.17
$0.14
$0.11
$0.08
Setup Charge: $20.00
Second Imprint: na
Special Information: Cello packing is available for $45.00 per thousand. Allow approximately 5 extra days. Non standard imprint colors red, blue, green, burgandy add $25.00

---
Art Charges: $16 for logos, with camera ready artwork. If artwork has to be reworked, charge of $40.00 per hour.
Cancellation Fees: All charges incurred by the factory to the date of cancellation of the order.
Copy Changes: $20.00. All changes of copy ust be same item and impirnt colors.
Less than Minimum: Add $25.00. Not available on all items.
Over/Under Runs: All orders are subject to a 10% overrun and billable.
PMS Color Match Charges $93.75 - exact color match cannot be guaranteed.
Production Time: Normal production time of 10 to 15 working days from date factory receives the order.
Product Proof: $20.00 plus all applicable charges.
Rush Service: Call for availability.
Custom Samples: $20.00 plus all applicable charges.