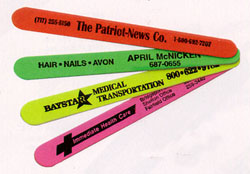 Neon colored emery boards
Request More Information ·

Size: 4 1/2 " X 1/2:
Available in neon pink, red, green, yellow
Imprint Area: 4 X 3/8
Imprint Colors: black only

1500
3000
6000
12000
25000
$0.24
$0.17
$0.14
$0.11
$0.08
Setup Charge: $20.00
Second Imprint: not available
Special Information: Prices include straight line copy. Assorted colors only. Absolute minimum is 1500 pieces.

---
Art Charges: There is an art charge/set-up charge for each type of item ordered. See individual items for set-up charge.
Cancellation Fees: All orders once entered into the factory system are considered firm and cannot be cancelled without factory authorization. Upon authorization a $20.00 charge will applyin addition to coast of dies/cuts, artwork and all material used.
Copy Changes: $30.00 per change.
Less than Minimum: The absolute minimum order processed is one half the first quantity listed unless otherwise noted; add $20.00 for LTM.
Over/Under Runs: 5% and billable.
PMS Color Match Charges $35.00 for a PMS color match. Hot stamped items cannot be PMS color matched. Actual colors might vary slightly.
Production Time: 15 working days
Product Proof: $30 for first proof. $25.00 for revisions.
Rush Service: Check with factory for product availability and schedules.
Custom Samples: $35.00 plus cost of dies/cuts and artwork. $35.00 will be applied on receipt of firm order.