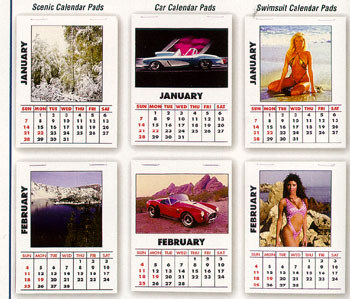 Stick =-Up calendars with 4 color process pads
Request More Information ·

Size: 3" X 3 7/8" calendar pads
Available in white, black, blue, graeen, red, yellow, brown, beige, grey, light blue headers
Imprint Area: 1 3/4" X 1"
Imprint Colors: white, black, gold recommended

150
250
500
1000
2500
$1.10
$1.04
$1.01
$0.90
$0.85
Setup Charge: $25.00
Second Imprint: not available
Special Information: All prices good thru June 30, after June 30 add 10%. Seasons greeting envelopes available at $.11 each packed separately. Multiple vinyl colors within an order are not available. Picture of header see suc calendars . Call for information on stock shapes. Logo charge add $21.00. Specify which calendar pad ordering - scenic, car, or swimsuit.

---
Art Charges: $47.00 per hour to clean up poor artwork submitted. Otherwise, the art charge/set-up charge is as specified per the item ordered.
Cancellation Fees: All charges incurred up to the day the order is cancelled.
Copy Changes: Copy changes are $13.00 per change.
Less than Minimum: A less than minimum is available unless otherwise specified at a charge of $30.00. Our absolute minimum is half of the lowest catalog quantity.
Over/Under Runs: We reserve the right to overrun or underrun quantities by 5%which is billable.
PMS Color Match Charges PMS color matches are $30.00 on white stock. PMS color matches cannot be made on colored materials and hotstamped items.
Production Time: Unless otherwise specified normal production time is 10 to 15 working days from date of factory receipt of the order.
Product Proof: $32.00 plus per color set-up charges per proof. Four color process product proofs are $32.00 plus $132.00 plate charge per product.
Rush Service: 3 day service must be specified. 3 day service is based on a 5 day work week. Add 1 to 2 days for each additional color required, or PMS match.
Custom Samples: $32.00 per sample plus per color set-up charges. If a speculative sample results in an order for $500.00 or more, we credit 1/2 of its cost. If the order is for $1000 or more the sample is credited in full.