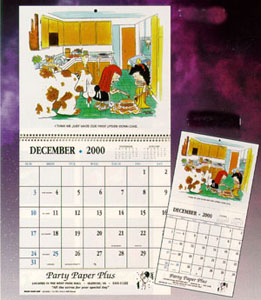 13 month appointment calendar featuring Never A Dull Moment
Request More Information ·

Size: 9 7/8 X 19 open
Available in white calendar/never a dull moment pictures
Imprint Area: 9" X 1 3/8"
Imprint Colors: Black only on stapled calendar. For colors other than black on the spiral calendar add $.06 each.

300
500
1000
2500
5000
$1.21
$1.17
$1.12
$1.07
$1.07
Setup Charge: $0.00
Second Imprint: $21.00 set-up plus $.18 each running cost.
Special Information: After 6/30/15 the price is $1.48 for 300 pcs.; $1.43 for 500 pcs.; $1.37 for 1000 pcs.; $1.30 for 2500 and above.

---
Art Charges: Art charges are assessed based on the artwork submitted. If art charges are $25.00 or more, you will be notified for approval in advance of performing the work.
Cancellation Fees: Orders will be billed according to the amunt of work performed on the order through the date the order cancellation is received.
Copy Changes: $50.00 per copy change. Minimum run of 150 per copy.
Less than Minimum: $50.00. Absolute minimum is 150 pieces.
Over/Under Runs: 4% over/underruns, billable
PMS Color Match Charges $24.00 per color match, plus a wash-up charge of $.06 each calendar run.
Production Time: 7 to 14 working days
Product Proof: Color proof on actual calendar $13.25; one color press proof $50.00, two color press proof $$80.00
Rush Service: Call for availability
Custom Samples: Random samples available at no charge. Spec. samples with your ad copy is not available.