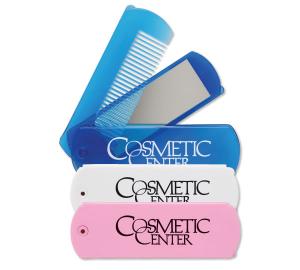 Fold Up Comb and Mirror Combination
Request More Information ·

Size: 1-1/4"h x 3-5/8"w.
Available in Blue, white, pink
Imprint Area: 3/4"h x 2-1/4"w
Imprint Colors: red, black. blue, green and etc.

150
250
500
1000
2500
$1.99
$1.79
$1.59
$1.39
$1.19
Setup Charge: $40.00
Second Imprint: na
Special Information: Price includes a one color imprint. Fold up mirror & comb. Great for travel.

---
Art Charges: $40.00 set-up charge, unless otherwise noted. If artwork has to be touched up there is a $40.00 per hour charge.
Cancellation Fees: If an order has been printed, a cancellation cannot be accepted. If the order has not been printed at time of cancellation, charges will be made only for the production work done on the order at the time of the cancellation.
Copy Changes: $40.00 per copy change.
Less than Minimum: Not available on some items. On most items 100 pcs. is the absolute minimus with a $25.00 per imprint charge.
Over/Under Runs: We try to ship exact quantities, but in some instances there can be a 5% over or underrun billable. Exact quantities will require an additional charge of $10 per item.
PMS Color Match Charges An exact match cannot always be obtained. PMS color match charge is $25.00 per color.
Production Time: Normal production time is 10 - 15 working days, form the date the factory receives the order.
Product Proof: $32.00 per sample proof plus per color set-up charge.
Rush Service: Rush orders are available at no extra charge. However, the factory has to contacted for availability of product.
Custom Samples: $32.00 per sample plus per color set-up charge.