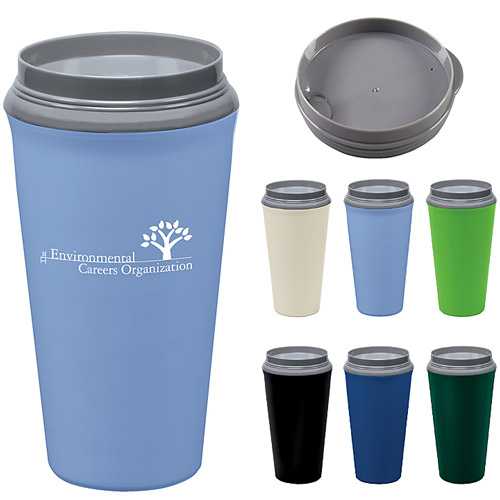 16 Ounce Bio Degradable Tumbler
Request More Information ·

Size: 16 Ounces
Available in Black, Blue, Dark Green, Light Blue, Lime, Stone
Imprint Area: 4 1/2" X 3"
Imprint Colors: red, black. blue, green and etc.

96
144
288
576
1008
$3.50
$3.25
$2.89
$2.55
$2.25
Setup Charge: $50.00
Second Imprint: $50.00 plus $.35 for each addition color
Special Information: Price includes a one color imprint. Biodegrades within 1 to 5 years in managed landfill. Top rack dishwasher and microwave safe. Drink through lid. Can be printed in up to 4 colors. Call for pricing.

---
Art Charges: $40.00 per hour for any artwork needing to be re-worked.
Cancellation Fees: All charges incurred at the factory up through the date of cancellation of the order.
Copy Changes: $30.00. Catalog minimums apply to change of copy orders.
Less than Minimum: $50.00 for less than minimum orders. Not all items are available.
Over/Under Runs: 5% and billable.
PMS Color Match Charges $30.00. May not be an exact color match.
Production Time: 8 to 10 working days. Cap orders requiring embroidery is 2 - 3 weeks.
Product Proof: $40.00 per color plus product end quantity pricing. $50.00 for embroidery.
Rush Service: Rush service is available. Call factory for information.
Custom Samples: $40.00 per color plus product end quantity pricing. $50.00 for embroidery