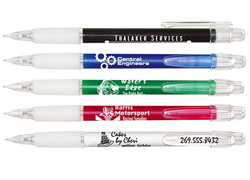 Mechanical Pencil With Rubber Grip
Request More Information ·

Size: 5 1/2"
Available in Opaque black, white, translucent dark blue, dark green, and red
Imprint Area: 1 1/4' X 3/4"
Imprint Colors: white, red, blue, black and etc.

300
500
1000
2500
5000
$1.00
$0.98
$0.95
$0.88
$0.79
Setup Charge: $0.00
Second Imprint: .12 for each additional location
Special Information: The above prices includes a one color one location imprint. The pencils come with refillable .05mm lead. Add .12 per pen for printing second location. Prnted on either the clip or the barrel

---
Art Charges: All non camera ready artwork will be assessed according to time and difficulty. Charge is $48.00 per hour. Notification will be sent if charge is greater than $20.00
Cancellation Fees: All charges incurred up to the date cancellation notice is received at the factory. Minimum charge of $30.00
Copy Changes: $12.00 per change.
Less than Minimum: $25.00 Absolute minimum is 1/2 of minimum catalog quantity.
Over/Under Runs: 5% billable
PMS Color Match Charges $32.00 for each color match. Best PMS match will be on a white surface.
Production Time: Normal production time is 6 working days.
Product Proof: $22.00 plus any logo/artwork and color change charges.
Rush Service: Rush service is available, but factory must be contacted. A rush charge will be apply.
Custom Samples: $20.00 per item plus logos additional color charges.