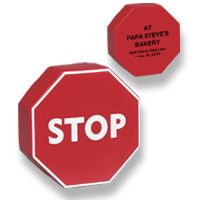 Stop Sign Stress Reliever
Request More Information ·

Size: 2" X 2"
Available in red
Imprint Area: 1 1/2" X 1 1/2"
Imprint Colors: red, green, blue, black, white, and etc.

100
250
500
1000
2500
$1.23
$1.17
$1.15
$1.12
$1.09
Setup Charge: $40.00
Second Imprint: not available
Special Information: On re-orders there is a $25.00 set-up charge. Our stress relievers are all made by hand. No two pieces are exactly the same. It is therefore impossible to guarantee a consistent, uniform imprint. A broad imprint area is subject to breaking up, and the imprint may not be solid. We cannot guarantee PMS color matches on stress relievers. These products are not safe for children and are not intended for use by children or pets.

---
Art Charges: Where artwork has to be reworked the art charge is $40.00 per hour. Notification will be sent if art charge exceeds $40.00.
Cancellation Fees: Orders cancelled during production will be charged for the work completed at the time of cancellation.
Copy Changes: Hot stamped and silk screened items- same as set-up charge for that item.
Less than Minimum: Unless otherwise specified add $50.00 for all products. Absolute mininum on any style is half the regular minimum unless otherwise specified. On all ceramic, glassware and embroidery items NO LESS THAN MINIMUM ALLOWED.
Over/Under Runs: Plus or minum 5% and billable
PMS Color Match Charges PMS color match charge is $50.00 for pad printed and screen printed items. PMS color matching is not available for hot stamped items.
Production Time: Normal production time for hot stamped, pad printed, and screen printed items is approximately 2 to 3 weeks.
Product Proof: Hot stamped, screen printed, and pad printed items are $50 per color.
Rush Service: Call for rush charges.
Custom Samples: Hot stamped, screen printed, and pad printed items are $50 per color.