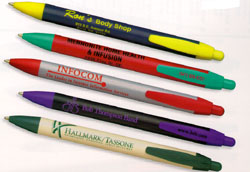 Bic Wide Body Pen
Request More Information ·

Size: 5 1/2"
Available in barrel colors - silver, black, white, navy, cream, yellow, teal, blue, red, forest green, purple; trim colors: white, black, purple, yellow red, teal, blue, navy, burgundy, forest green
Imprint Area: 2 1/8" x 1"
Imprint Colors: black, red, royal blue, green, brown, purple, burgandy and etc.

300
500
1000
2500
5000
$1.22
$1.20
$1.18
$1.06
$1.03
Setup Charge: $0.94
Second Imprint: add $.12 each per pen
Special Information: Price includes a one color barrel imprint. Up to to 3 color imprint available. For a one color clip imprint only add $.15 each pen. Choose 1 barrel color and 1 trim color.

---
Art Charges: No charge for minor artwork touch-up.
Cancellation Fees: Cancellation of orders prior to production will be invoiced at a $25.00 minimum charge. After production has been initiated, orders cannot be changed or cancelled. Production time begins upon receipt of the complete order or after proof approval.
Copy Changes: Copy changes will be invoiced at $25.00 per change.
Less than Minimum: Less than minimum is not available.
Over/Under Runs: 5% and billable
PMS Color Match Charges $32.00
Production Time: Normal production time is 5 working days from date factory receives order.
Product Proof: $25.00. Allow 5 additional working days for a product proof.
Rush Service: Call for availability
Custom Samples: $25.00