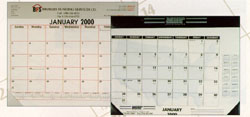 Desk pad calendar with leatherette header, and corners
Request More Information ·

Size: 17" X 22"
Available in red, navy, blue, black, maroon, brown, walnut, green, purple, and ivory
Imprint Area: 10"
Imprint Colors: gold, silver, white, black, red, blue

100
250
500
750
1000
$11.90
$11.50
$11.20
$10.80
$10.40
Setup Charge: $60.00
Second Imprint: 25.00 for imprint on calendar pad
Special Information: Prices include a one color imprint. Double imprinted calendars are used when the imprint on the header is not sufficient. Imprinting is done on the leatherette header and additional message is printed on each sheet. Price increase 7% if ordered after Sept. 1

---
Art Charges: Artwork will be billed by the factory at the rate of $50.00 per hour for any artwork that has to be redone.
Cancellation Fees: All orders are considered firm and cannot be cancelled. Cancellations will be allowed only if merchandise has not been already made or printed. Customer is responsible for any charge incurred up to that point.
Copy Changes: Not available
Less than Minimum: Only where indicated on the catalog page
Over/Under Runs: 10% and billable
PMS Color Match Charges Hot stamped items cannot be color matched.
Production Time: Normal production time is 3 to 4 working weeks after approval of order.
Product Proof: Proofs are charged at low end quantity price plus all set-up and shipping charges.
Rush Service: Rush service is available on most items at no extra cost. Factory has to be contacted for availability.
Custom Samples: Charged at low end quantity price plus all set-up and shipping charges