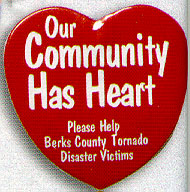 Heart Shaped Button
Request More Information ·

Size: 2 1/4"
Available in white
Imprint Area: 2 1/8"
Imprint Colors: any standard or pms color

100
250
500
1000
2500
$1.56
$0.97
$0.67
$0.57
$0.52
Setup Charge: $0.00
Second Imprint: 0
Special Information: Price includes a full color imprint on white, please specify PMS colors. Neon and metallic inks are not available.

---
Art Charges: Art work having to be prepared by the factory will vary from $46.00 for 1-2 colors; $77.00 for 3-4 colors, $112.00 for 5 - 6 colors.
Cancellation Fees: There is a minimum cancellation charge of $19.00. In addition all charges incurred by the factory up to the date of cancellation will be billed to the customer.
Copy Changes: $50.00 per change of copy.
Less than Minimum: Not available.
Over/Under Runs: 5% and billable
PMS Color Match Charges No charge
Production Time: 7 - 10 working days.
Product Proof: $61.00 plus any applicable art charges.
Rush Service: Call factory for availability.
Custom Samples: $61.00 plus any applicable art charges.