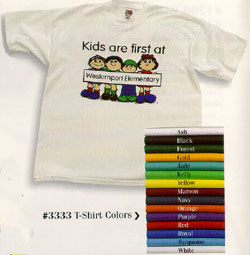 50%Cotton/50%Polyester heavyweight jersey knit T-Shirt
Request More Information ·

Size: S, M, L, XL,
Available in white
Imprint Area: 11" X 11"
Imprint Colors: black, red, royal blue, green, brown, purple, burgandy and etc.

24
48
72
144
288
$6.00
$4.70
$4.10
$3.60
$3.42
Setup Charge: $25.00
Second Imprint: $25 per color
Special Information: Call for pricing for less than minimum shown or second side imprinting. XXL available at $1.60 each extra. For multi color imprints add $15.00 set-up charge per color plus 24/$1.10; 48/$.60; 72/$.50; 144 /$..35; 288/$.025 for each additional color.

---
Art Charges: no charge
Cancellation Fees: All charges incurred up to the date the factory receives the cancellation notice
Copy Changes: $20.00 per color
Less than Minimum: $17.00
Over/Under Runs: 10% and billable
PMS Color Match Charges $30.00 per order. Close approximation only.
Production Time: Normal production is 2 to 3 weeks.
Product Proof: $10.00 plus end quantity pricing.
Rush Service: Available on most items. Call for information.
Custom Samples: $10.00 plus end quantity pricing.