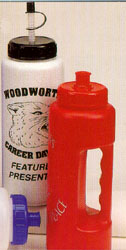 32 Ounce gripper handle bottle
Request More Information ·

Size: 32 ounces
Available in bottles - white, frosted, granite, red, blue, teal, purple; caps - white, red, blue, black
Imprint Area: 4 1/2" X 6 1/2"
Imprint Colors: black, red, royal blue, green, brown, purple, burgandy and etc.

90
180
270
540
1080
$1.90
$1.80
$1.70
$1.60
$1.58
Setup Charge: $45.00
Second Imprint: $45.00 per color
Special Information: For multi color imprints add $.30 each per color running charge plus $45.00 per color set-up charge. 500 minimum pc. for multi-color imprint. Prices listed above are for bottles shipped with straw caps and tips. To substitute with a push pull cap add $.20 each. Shipped unassembled.

---
Art Charges: $25.00 per hour for artwork submitted that has to be reworked.
Cancellation Fees: All charges incurred are invoiced up through the date the factory receives the cancellation notice
Copy Changes: $25.00 normal copy change charge. Can vary with the individual item ordered. See the catalog page.
Less than Minimum: $40.00. The absolute minimum is 1/2 of the lowest catalog quantity, unless otherwise shown.
Over/Under Runs: 5% and billable
PMS Color Match Charges $40.00 per color. Exact color match cannot be guaranteed.
Production Time: Normal production time is 5 - 10 working days from the date the factory receives the order.
Product Proof: $25.00. Artwork and logo charges are additional if required.
Rush Service: Call factory rep. for availability.
Custom Samples: $25.00 plus all aplicable charges required to produce order.