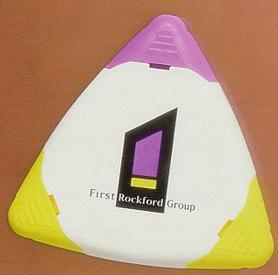 Triangular highlighter - 3 neon colors
Request More Information ·

Size: 3 5/8" X 3 5/8" X 3 5/8"
Available in Body colors - white, black, blue, silver, Caps - neon yellow, blue, pink, orange, green, purple, coral
Imprint Area: 1 5/32" X 2 1/32"
Imprint Colors: black, red, royal blue, green, brown, purple, burgandy and etc.

200
350
500
1000
2500
$1.52
$1.44
$1.32
$1.23
$1.11
Setup Charge: $50.00
Second Imprint: $50.00 per color
Special Information: Create your own highlighter color combination. 250 minimum per color combo. For additional imprint colors add $.15 each per color. 2 color imprint minimum 500 pieces. 3 & 4 color imprint minimum 500 pieces. Exact repeat orders $20.00 per color per side.

---
Art Charges: Non Camera Ready Art: Charge will be assessed according to time & difficulty: $40.00 per hour. You will receive prior notification of charges exceeding $20.00.
Cancellation Fees: All charges incurred through the date of cancellation.
Copy Changes: $18.00 per copy change (includes screen charge) changes must be at least half of the 2nd column catalog quantity. (pertains to catalog quantity orders only)
Less than Minimum: Orders must total $200.00 plus $17.50 LTM charge. Use minimum quantity price.
Over/Under Runs: Over or underrun will not exceed 5% industry standard (pertains to catalog quantity only)and billable.
PMS Color Match Charges $18.00
Production Time: 7 working days
Product Proof: 1-color/1 side $25.00; 1-color/2-sides $25.00; 2-color/1-side $50.00; 2-color/2-sides $50.00; 3-color/1-side $75.00; 3-color/2-sides $75.00. NOTE: Second side proofs apply to FLAT items only.
Rush Service: 4 working days – add $15.00 (1-Color Imprint only)
Custom Samples: 1-color/1-side $25.00; 1-color/2-sides $50.00; 2-color/1-side $50.00; 2-color/2-sides $100.00; 3-color/1-side $70.00; 3-color/2-sides $150.00