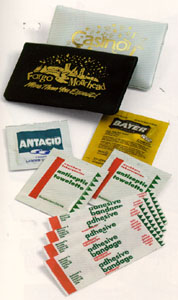 Vinyl first aid pack
Request More Information ·

Size: 3 7/8" X 2 3/4"
Available in white, blue, red, green, purple, silver
Imprint Area: 3 X 1 1/2"
Imprint Colors: black, red, royal blue, green, brown, purple, burgandy and etc.

250
500
1000
2500
5000
$2.81
$2.58
$2.41
$2.35
$2.30
Setup Charge: $50.00
Second Imprint: $50.00 per color/per location
Special Information: Price includes a one color imprint. For second color imprint add $.35. For a second location imprint add $.35. The packs contain 4 adhesive strips, 2 antiseptic towelettes, 1 adhesive pad, generic aspirin packet and a first aid guide.

---
Art Charges: Artwork touch-up is provided at no additional charge.
Cancellation Fees: All orders are subject to all costs incurred up through the date of cancellation of the order.
Copy Changes: Change of copy is subject to a $45.00 charge per change, per color; minimum quantity required for each change.
Less than Minimum: $40.00 extra for 1/2 of the smallest quantity shown for each item.
Over/Under Runs: 5% billable.
PMS Color Match Charges No extra charge for a PMS color match.
Production Time: Normal production time on most items is 7 working days. On some items the time might be longer as shown on the individual catalog pages.
Product Proof: $50 for each color, plus end quantity pricing of the item.
Rush Service: 48 hour rush service is available at no extra charge for certain items. Call for details.
Custom Samples: $50.00 for each color printed, plus end quantity pricing.