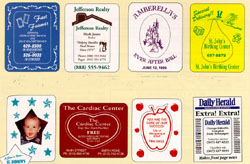 30 mil magnet picture frames
Request More Information ·

Size: 3" X 3 3/4"
Available in white
Imprint Area: 2 7/8" X 3 1/2"
Imprint Colors: black, red, royal blue, green, brown, purple, burgandy and etc.

250
500
1000
2500
5000
$0.85
$0.64
$0.44
$0.35
$0.29
Setup Charge: $0.00
Second Imprint: no charge
Special Information: Price includes a one to four color imprint. Two magnets in one design -the outer magnet and the punch-out inner magnet. Contact factory for exact ad area for inner punch out magnets. Standard shapes include oval, rectangle, house, stork, star, heart, apple. Many standard border designs to choose from or create your own. Call for standard designs available.

---
Art Charges: $40.00 per hour for any artwork that has to be reworked.
Cancellation Fees: Subject to all costs incurred in production up to the date notification is received.
Copy Changes: $15.00 per change. Minimum quantity per change- lowest quantity listed for that product in multiples of the same quantity.
Less than Minimum: not available
Over/Under Runs: 5% and billable
PMS Color Match Charges Not available except on custome offset work.
Production Time: 10 to 15 working days from date factory receives the order
Product Proof: $25.00 per imprint color. Cost of the product proof will be rebated on order if there are no changes.
Rush Service: Call for availability.
Custom Samples: $25.00 per imprint color plus the cost of the item, plus shipping charges.