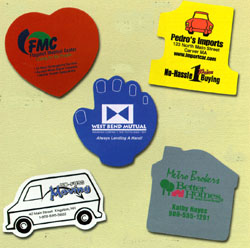 Rubber jar openers
Request More Information ·

Size: 5 1/2" X 3"
Available in white, yellow, red, blue, pink, gray, green, cream, teal
Imprint Area: 3" X 3 1/2"
Imprint Colors: black, red, royal blue, green, brown, purple, burgandy, and etc.

300
500
1000
2500
5000
$0.70
$0.68
$0.64
$0.56
$0.47
Setup Charge: $30.00
Second Imprint: $30 set up charge per color
Special Information: Jar openers are available in the following shapes- helping hand, number one, delivery van, house, round, daisy, rectangle, dollar bill, apple, foot, computer, shopping bag, piggy, light bulb, fish, propane tank, football. The standard imprint colors are black or white. Add $18.00 wash-up charge for other imprint color selected. Multicolor imprints are available on orders of 500 or more pieces. Exact registration is not possible. All openers are individually sealed in a printed poly bag. Actual size of the item and imprint area depends on the shape ordered. When ordering specify the shape. They cannot be mixed together.

---
Art Charges: $50.00 per hour with a minimum art charge of $25.00 for any changes or corrections that have to be made on submitted artwork.
Cancellation Fees: $20.00 charge if copy has been processed.
Copy Changes: $20.00 per change. Each change of copy must meet the minimum quantity specified.
Less than Minimum: The minimum quantity shown is the absolute minimum.
Over/Under Runs: 5% billable.
PMS Color Match Charges $32.00 for each color match. The order must be for 1000 pieces or more.
Production Time: Standard production is 10 to 15 working days.
Product Proof: $30.00 per imprint color plus the product cost.
Rush Service: $40.00. This service will be provided if our production permits, and the inventory is immediately available. Call for rush service availability.
Custom Samples: $30.00 per imprint color plus the product cost.