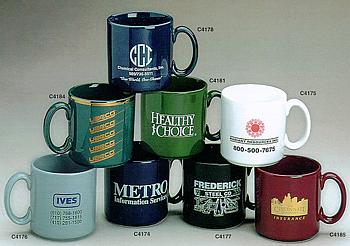 English Ironstone Mug W/c Shape Handle
Request More Information ·

Size: 11 ounce
Available in white, navy blue, black
Imprint Area: 2 1/2 X 2 7/8
Imprint Colors: yellow,orange, purple, reflex blue, blue, teal,dk green, lt. green, grey, brown, maroon, pink, purple, black, red

144
288
576
1008
2016
$1.99
$1.99
$1.99
$1.99
$1.99
Setup Charge: $45.00
Second Imprint: $45.00 set-up per color
Special Information: Call for pricing for multi-color printing. Normal Pkg.: Bulk, 36 Per Carton. For Gift Boxes Or Wrapping, Mailers, Handout Boxes, Candle, Coffee Or Soup Fillers, Card Insertion, Call For Details.

---
Art Charges: $35.00 for one or more colors
Cancellation Fees: All charges incurred before cancellation will be billed.
Copy Changes: $35.00 for one or more colors
Less than Minimum: $30.00 per color. Absolute minimum is 72 pieces unless otherwise noted.
Over/Under Runs: Limited to 5% on ashtrays, and 10% on all other items, billable.
PMS Color Match Charges $20.00 for orders of 576 or less pieces ordered. Because of the nature of ceramic paints. we cannot guarantee exact matches, expecially in pinks, rubine red, or any colors on dark colored mugs.
Production Time: Allow 10 working days from the date that the factory receives the artwork.
Product Proof: screened items - no charge on quantities of 576 or more. Less than 576 pieces $30.00 plus art charges, not rebateable.
Rush Service: 1 color imprints shipped in 3 business days; 2 color imprint shipped in 4 business days. Add 15% rush charge to to item, with a minimum charge of $25.00 per order. Certain restrictions may apply.
Custom Samples: Spec. samples are available at $30.00 per color plus artwork and screen charges for the item requested. The speculative sample charge will be credited in full if an order of 576 or more pieces are ordered.