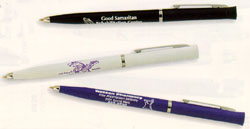 Deluxe Twist Action Ballpoint Pen W/matte Finish, Flair Top, Nickel Plated Clip, Tip & Center Band, Screened.
Web Special!!!
$0.45 in quantities of 250 or more!!!
Request More Information ·

Size: 5 1/2
Available in Black, Dark Blue, White, Burgundy, Hunter Green, Gray, Maroon, Pi
Imprint Area: 1 1/2 X 3/4
Imprint Colors: black, white, red, med. blue, green, silver

250
500
1000
2500
5000
$0.50
$0.49
$0.48
$0.47
$0.46
Setup Charge: $35.00
Second Imprint: not available
Special Information: Price Includes One Color Screen Imprint Up To Five Lines. Change Of Imprint Color: $10. Per Color. Exact repeat orders are $18.00 set-up charge

---
Art Charges: Catalog prices include silk screen imprint of 5 lines of straight line copy of approximately 28 letters and spaces.Custom logos from camera ready artwork is $20.00. Minimum art charge of $25.00 for touch-ups and corrections.
Cancellation Fees: Charges will be billed on materials used and work completed prior to notification of the cancellation.
Copy Changes: $10.00 each for change of copy.
Less than Minimum: $15.00 charge for orders less than minimum. Orders for less than 1/2 the minimum quantity will not be accepted.
Over/Under Runs: 5% over or under run may occur and are billable.
PMS Color Match Charges PMS color matches are $15.00 per color.
Production Time: Normal production time is 10 to 12 working days. Most items can be shipped in 5 working days at no additional cost.
Product Proof: Paper proofs are $8.00. Actual production proofs are $15.00 plus the cost of the product and logo (if applicable).
Rush Service: 72 rush hour service is available. There is a $50.00 rush charge for this service. This service cannot be guaranteed for holiday orders taken after December 1.
Custom Samples: Spec samples are $15.00 plus cost of product and logo charge (if applicable).