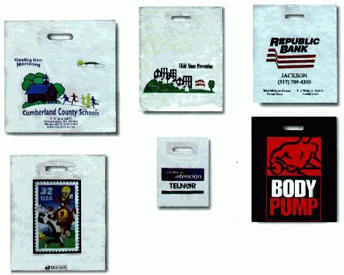 Plastic Patch Handle Bags, 1.75 Mil Single Wall Construction
Request More Information ·

Size: 20" X 19" X 4"
Available in White, Black, Ivory, Beige, Yellow, Blue, Pink, Silver, Red, Magenta, Gray
Imprint Area: 12" X 12"
Imprint Colors: black, red, royal blue, green, brown, purple, burgandy and etc.

3000
5000
7500
10000
25000
$0.79
$0.71
$0.69
$0.63
$0.61
Setup Charge: $75.00
Second Imprint: see information below
Special Information: Price Includes 1Side Printing, Up To 50% Coverage. Plate Changes: $75.00 minimum plus $2.00 for each 36 square inch. For Over 50% Coverage Or Metallic Inks Call For Details. For actual plate charge and multicolor imprint call for pricing.

---
Art Charges: $50/hr for any artwork changes or corrections we have to make on submitted artwork.
Cancellation Fees: $25.00 plus all charges incurred up to the date cancellation is received at the factory.
Copy Changes: not available
Less than Minimum: No less than minimum orders accepted
Over/Under Runs: 3M - 25M bags, 20%; 50M or over 10-15%; billable
PMS Color Match Charges No charge for PMS color match.
Production Time: 10 - 15 working days
Product Proof: Black and White proofs on paper supplied at no charge.
Rush Service: Call for availability
Custom Samples: Not avaiable