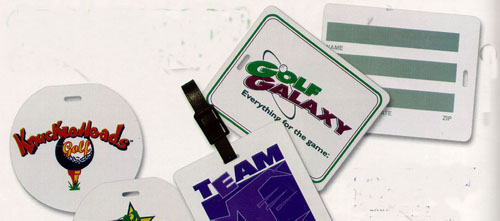 Round or rectangle sports bag tags
Request More Information ·

Size: Round 3 3/4" dia., Rectangle 4 1/2" X 3 1/2"
Available in white
Imprint Area: round 3 1/4" X 2 3/4", rectangle 3 1/4" X 3
Imprint Colors: black, , red, royal blue, green, brown, purple, burgandy,

250
500
1000
2500
5000
$1.04
$0.84
$0.74
$0.64
$0.54
Setup Charge: $50.00
Second Imprint: $50.00 Per Color
Special Information: The Tags are 40 mil Thick W/write-on Surface Id On Reverse Side & Choice Of Plastic Lock (.03 each extra), Or Loop Strap (standard) In Black, White, Red, Or Reflex Blue. For additional color imprints add 250 - $.16 ; 500- $.14 ; 1000 - $.12 ; 2500- $.11; 5000-$.10, for each color added. Call for pricing for full color imprint. When ordering specify round or rectangle tag, and either plastic strap or plastic loop attachment. The straps are packed separately. Exact repeat set-up charge is $25.00 per color.

---
Art Charges: Screen or die charge is $40.00 per color
Cancellation Fees: All charges incurred until the date of notification of cancellation of the order.
Copy Changes: $40.00 per color per side. Catalog minimums apply per copy change.
Less than Minimum: 1/2 of catalog minimum. $40.00 charge extra per order.
Over/Under Runs: Not to exceed 10%, and billable. If exact quantity required exact count charge of $30.00 will apply.
PMS Color Match Charges $30.00 per Pantome Color Match.
Production Time: 7 to 10 working days from date of receipt of the order at the factory.
Product Proof: $30 first color, $20.00 each additional color for rigid plastic items. For vinyl products $40.00
Rush Service: Call for availability and pricing.
Custom Samples: not available