To find out more information or to place an order, contact Martin at (516) 681-5890 or email info@mrmadvertising.com
---
QFT-05 Flip Top Calculator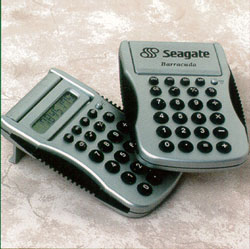 Flip Top Calculator
Web Special!!!
$1.95 in quantities of 200 or more!!!
Size: 4" X 3"
Available in silver with black trim, translucent red or blue with grey trim
Imprint Area: 1 5/8" X 3/4"
Imprint Colors: black, red, blue, green, and etc.

200
300
500
1000
2500
$2.10
$1.95
$1.90
$1.85
$1.80
Setup Charge: $50.00
Second Imprint: $50.00 plus $.25 per pc. running charge
Special Information: Push the button and the display cover opens and swings underneath to form a stand. Individually packed. Battery included. Special price good through Dec. 31, 08
---
Art Charges: $40.00 per hour for artwork that has to be reworked
Cancellation Fees: Any items imprinted before cancellation or change will be billed accordingly
Copy Changes: $30.00 set-up charge for each copy change
Less than Minimum: Half of lowest amount shown in catalog. A $30.00 less than minimum charge will be applied
Over/Under Runs: On one color imprints almost all orders will ship exact amounts. On multicolor imprints we reserve the rights to ship up to 5% over or under and will bill accordingly
PMS Color Match Charges $15.00. We cannot guarantee an exact PMS color match. We will come as close as possible.
Production Time: Standard service is 2 weeks. 5 day service is available upon request at no charge.
Product Proof: No charge for paper proof. On sample items a flat rate charge of $20.00 plus air shipping will apply.
Rush Service: 48 hour express service. Add 25% to the price of the item.
Custom Samples: On sample items a flat rate charge of $20.00 plus air shipping will apply.
---
All images contained on this page are © 2019 MRM Advertising, All Rights Reserved