To find out more information or to place an order, contact Martin at (516) 681-5890 or email info@mrmadvertising.com
---
C8 Carabineer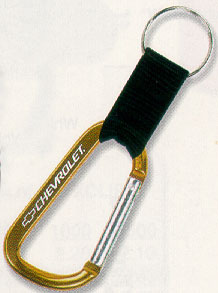 Carabineer 8MM with Strap
Web Special!!!
$0.85 in quantities of 500 or more!!!
Size: 3 1/4" X 1 3/4"
Available in red, black, blue, green, orange
Imprint Area: 1/4" X 2"
Imprint Colors: white

500
1000
1500
2500
5000
$1.15
$1.05
$1.00
$0.95
$0.90
Setup Charge: $50.00
Second Imprint: not available
Special Information: Standard imprint color is white filled laser engraving only. Bulk packed and polybagged. Easily attaches to school packs, gym bags, belts.
---
Art Charges: Art charges will be assessed at the rate of $40.00 per hour.
Cancellation Fees: All orders are considered firm and cannot be cancelled without factory authorization. Upon authorization a $20.00 cancellation charge will be apply in addition to cost of dies, screens, artowork, and all materials produced.
Copy Changes: $12.50 to $30.00 depending on the merchandise ordered. Pens/pencils $12.50; rulers $20.00; yardsticks, glassware, drinkware $30.00; golf items $25.00.
Less than Minimum: $30.00; 1/2 of the lowest quantity. Not available on all items.
Over/Under Runs: 5% and billable
PMS Color Match Charges $25.00 on ink printed orders. PMS color matches are not available on hot stamped items.
Production Time: 7-10 working days from date of receipt of order at factory.
Product Proof: Pens, pencils $20.00 per imprint color per set-up; rulers, drinkware $30.00 per imprint color per set-up, golf contact factory.
Rush Service: 1 and 2 day rush service is available. Contact factory for pricing and availablity.
Custom Samples: Pens, pencils $20.00 per imprint color per set-up; rulers, drinkware $30.00 per imprint color per set-up, golf contact factory
---
All images contained on this page are © 2019 MRM Advertising, All Rights Reserved