To find out more information or to place an order, contact Martin at (516) 681-5890 or email info@mrmadvertising.com
---
W 787 Zip Purse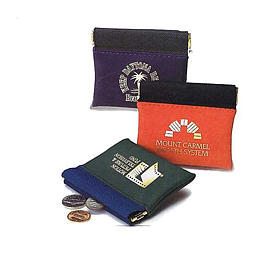 ZiptypeType Coin Purse
Web Special!!!
$1.21 in quantities of 500 or more!!!
Size: 4 1/2" X 3"
Available in Purple-Green, Red-Black, Blue-Green or all navy, burgundy, and black
Imprint Area: 2" X 1 1/4"
Imprint Colors: gold or silver

250
500
1000
2500
5000
$1.44
$1.39
$1.32
$1.26
$1.21
Setup Charge: $0.00
Second Imprint: call for pricing
Special Information: Price includes straight line copy. Add $45 for a logo or curved or special type style.
---
Art Charges: Cut charges are $40.00
Cancellation Fees: Cancelled orders are subject to all charges incurred to date of cancellation. Completed orders cannot be cancelled.
Copy Changes: On combs, add $5.00. On all other items less than $1.00 (250 qty.) add $10.00. On items $1.00 or more (250 qty.) add $15.00.
Less than Minimum: Generally 1/2 of the lowest quantity offered. Add $10.00
Over/Under Runs: 5% over or underrun, billable.
PMS Color Match Charges Hot stamped items cannot have PMS color matches. In most cases most standard colors are available.
Production Time: Normal production time is 10 working days from receipt of the approved artwork at the factory.
Product Proof: $25.00
Rush Service: Not available. Wherever possible we will make every effort to ship when a rush order is requested.
Custom Samples: not available.
---
All images contained on this page are © 2019 MRM Advertising, All Rights Reserved