To find out more information or to place an order, contact Martin at (516) 681-5890 or email info@mrmadvertising.com
---
H 1900 Mouse Pad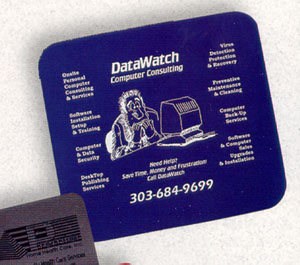 Computer mouse pad
Web Special!!!
$0.89 in quantities of 250 or more!!!
Size: 9" X 8" X 1/8"
Available in black, red, blue, teal and grey
Imprint Area: 71/2" X 61/2"
Imprint Colors: red, black, blue, green, white, and etc.

100
250
500
1000
2500
$1.56
$1.35
$1.18
$1.02
$0.89
Setup Charge: $40.00
Second Imprint: not available
Special Information: There is a $25.00 set-up charge on reorders. Mouse pads are screen printed - one color only.
---
Art Charges: Where artwork has to be reworked the art charge is $40.00 per hour. Notification will be sent if art charge exceeds $40.00.
Cancellation Fees: Orders cancelled during production will be charged for the work completed at the time of cancellation.
Copy Changes: Hot stamped and silk screened items- same as set-up charge for that item.
Less than Minimum: Unless otherwise specified add $50.00 for all products. Absolute mininum on any style is half the regular minimum unless otherwise specified. On all ceramic, glassware and embroidery items NO LESS THAN MINIMUM ALLOWED.
Over/Under Runs: Plus or minum 5% and billable
PMS Color Match Charges PMS color match charge is $50.00 for pad printed and screen printed items. PMS color matching is not available for hot stamped items.
Production Time: Normal production time for hot stamped, pad printed, and screen printed items is approximately 2 to 3 weeks.
Product Proof: Hot stamped, screen printed, and pad printed items are $50 per color.
Rush Service: Call for rush charges.
Custom Samples: Hot stamped, screen printed, and pad printed items are $50 per color.
---
All images contained on this page are © 2019 MRM Advertising, All Rights Reserved