To find out more information or to place an order, contact Martin at (516) 681-5890 or email info@mrmadvertising.com
---
H7501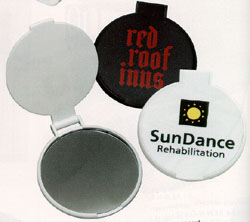 Round compact mirror
Web Special!!!
$0.49 in quantities of 500 or more!!!
Size: 2 1/4" diameter
Available in black, white, slver, translucent blue, red, pink, green
Imprint Area: 1 3/4" diameter
Imprint Colors: black, red, royal blue, green, brown, purple, burgandy and etc.

250
500
1000
2500
5000
$0.72
$0.65
$0.59
$0.54
$0.49
Setup Charge: $40.00
Second Imprint: $40.00 each color
Special Information: Price includes straight line copy in one color, one location. For logos or special type styles add $40.00 set-up charge. For second imprint color add $.25 each plus set-up charge.
---
Art Charges: There is an art charge/set-up charge for each type of item ordered. See individual items for set-up charge.
Cancellation Fees: All orders once entered into the factory system are considered firm and cannot be cancelled without factory authorization. Upon authorization a $20.00 charge will applyin addition to coast of dies/cuts, artwork and all material used.
Copy Changes: $30.00 per change.
Less than Minimum: The absolute minimum order processed is one half the first quantity listed unless otherwise noted; add $20.00 for LTM.
Over/Under Runs: 5% and billable.
PMS Color Match Charges $35.00 for a PMS color match. Hot stamped items cannot be PMS color matched. Actual colors might vary slightly.
Production Time: 15 working days
Product Proof: $30 for first proof. $25.00 for revisions.
Rush Service: Check with factory for product availability and schedules.
Custom Samples: $35.00 plus cost of dies/cuts and artwork. $35.00 will be applied on receipt of firm order.
---
All images contained on this page are © 2019 MRM Advertising, All Rights Reserved