To find out more information or to place an order, contact Martin at (516) 681-5890 or email info@mrmadvertising.com
---
I 826 Big Bag Clip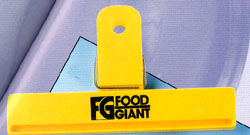 Bag clip
Web Special!!!
$0.78 in quantities of 250 or more!!!
Size: 6" X 3 1/4"
Available in white, yellow
Imprint Area: 5 1/2" X 11/16"
Imprint Colors: black, red, royal blue, green, brown, purple, burgandy and etc.

250
500
1000
2500
5000
$1.24
$1.20
$1.16
$1.02
$0.90
Setup Charge: $50.00
Second Imprint: not available
Special Information: Serves as a bag clip to lock in freshness. Can also be used as a document clip. Each clip is polybagged.
---
Art Charges: $31.25 set-up charge
Cancellation Fees: All charges incurred from the date of the factory receives the cancellation of the order.
Copy Changes: $25.00 per copy change. If a logo is involved there is an additional $31.25 charge.
Less than Minimum: On most items $12.50 with an absolute minimum of 1/2 the catalog quantity.
Over/Under Runs: 5% overruns and underruns, billable to the customer
PMS Color Match Charges Exact color match is not guaranteed. PMS colors as close as possible $20.00.
Production Time: 10 to 15 working days
Product Proof: $8.75 plus set0up charge.
Rush Service: Check with the factory for availability of the product.
Custom Samples: $8.75 plus all set-up and related charges.
---
All images contained on this page are © 2019 MRM Advertising, All Rights Reserved