To find out more information or to place an order, contact Martin at (516) 681-5890 or email info@mrmadvertising.com
---
AC 100 Sports Roll Bag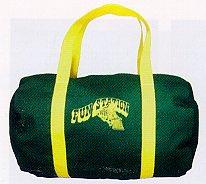 Poly/cotton Twill Small Roll Bag W/poly-pro Web Handles, Zipper Closure
Size: 14" X 8"
Available in Black, White, Royal Blue, Yellow, Orange, Hunter Green, Brown, Columbia Blue, Khaki, Charcoal, Light Gray, Natural, Kelly Green, Burgundy
Imprint Area: 3 1/2" X 3 1/2"
Imprint Colors: black, red, blue, green, yellow, white, brown, and etc.

75
150
250
500
1000
$12.13
$11.28
$10.60
$10.07
$9.67
Setup Charge: $50.00
Second Imprint: call for pricing
Special Information: Prices Include One Color Screen One Location. For Other Fabrics, Imported, Custom, Embroidery, Transfers, Puffed Ink, Rainbow Print & Larger Qtys Call For Details
---
Art Charges: $40.00 per hour to redo submitted artwork as necessary.
Cancellation Fees: All charges incurred through the date of cancellation received at the factory.
Copy Changes: $30.00 set-up charge per color per copy change. Copy changes apply to minimum quantities only.
Less than Minimum: No less than catalog minimums unless otherwise specified on data sheet.
Over/Under Runs: 10% and billable.
PMS Color Match Charges Call factory for pricing.
Production Time: Allow 15 to 25 working days for screen printed orders.
Product Proof: $2500 for a one color pre-production proof. Add $12.50 for each additional color.
Rush Service: $62.50 plus or an additional 10% of the order plus the air freight.
Custom Samples: $31.25 plus for a one color imprint, plus additional screen and printing costs for each additional color.
---
All images contained on this page are © 2019 MRM Advertising, All Rights Reserved