To find out more information or to place an order, contact Martin at (516) 681-5890 or email info@mrmadvertising.com
---
IC1012 Snafooz Puzzle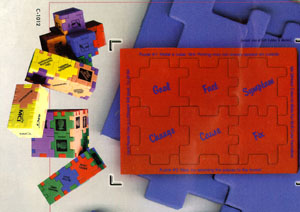 Six piece foam puzzle
Size: 4 1/2" X 3 1/2"
Available in yellow, red, purple, blue, green, orange,teal, pink, white
Imprint Area: 3" X 4"
Imprint Colors: black, white, blue

250
500
1000
2500
5000
$1.52
$1.21
$1.05
$0.98
$0.88
Setup Charge: $45.00
Second Imprint: $45.00 per color
Special Information: The puzzles are shipped flat and form a cube when put together. Can combine several puzzles to make larger cubes. The color of the puzzle indicates the puzzles degree of difficulty, yellow being the easiest, and orange the most difficult. For additional imprint add $.20 per pc. Price includes a one color one side imprint. Optional poly bag add $.25 each.
---
Art Charges: $45.00 per hour for aratwork that has to be touched up.
Cancellation Fees: All charges incurred from date factory receives cancellation.
Copy Changes: $45.00 set-up charge per imprint color.
Less than Minimum: Varies with each product. See catalog pages for information.
Over/Under Runs: 5% billable
PMS Color Match Charges Call for availability.
Production Time: 10 working days on most items
Product Proof: Call for pricing. Varies with product ordered.
Rush Service: Available for an additional charge. Call for availability.
Custom Samples: Call for pricing.
---
All images contained on this page are © 2019 MRM Advertising, All Rights Reserved