To find out more information or to place an order, contact Martin at (516) 681-5890 or email info@mrmadvertising.com
---
DP-480 Magnetic Index - Satin Gold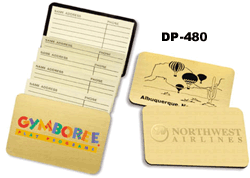 Magnetized covers hold pages firm, convienient for poctet or purse. Instant name, address and phone references.
Size: 3 1/4 x 2 1/4
Available in Satin Gold
Imprint Area: 2 13/16 x 1 13/16
Imprint Colors: DP-480 surface engraved in metallic rainbow foil. They can also be silk screened in your choice of standard colors.

250
500
1000
2500
5000
$0.85
$0.82
$0.78
$0.75
$0.73
Setup Charge: $52.50
Second Imprint: Add $25.00 set up plus .25 ea. running charge per color, per order.
Special Information: There is a $26.50 set-up charge for exact re-orders. For Permanent Protection for Your Magnetic Index: We will insert the index into a pliable and sturdy Clear-View Vinyl sleeve. 13¢ ea. Inserted/8¢ ea. Not inserted.
---
Art Charges: Orders requiring extensive artwork or additional photography are invoiced at $35.00 per hour. Special typestyles, logos, curved or reverse copy add $35.00 per color. Fax transmissions, photo copies are not considered camera-ready artwork. Mouunted cuts cannot be used. Should there be any copy or layout change, add $20.00 per each color as a Partial Change Charge.
Cancellation Fees: A minimum cancellation charge of $25.00 plus all charges incurred to date will be billed accodingly.
Copy Changes: $20.00 set-up plus any art and die charges, except where otherwise shown.
Less than Minimum: Add $20.00 per order. One half of lowest quantity shown is absolute minimum, except where shown otherwise.
Over/Under Runs: All orders are subject to 5% over runs or under runs and will be billed accordingly.
PMS Color Match Charges $25.00 each. A PMS color match is not available on hot stamped items, but we will match standard colors.
Production Time: 10 - 14 working days is standard. Orders grater than catalog quantity are subject to quoted delivery.
Product Proof: Paper proofs are available upon request @ $8.00 per copy.
Rush Service: 6 working day priority service is available. Day one starts the day after an order is received. The order must meet the following requirements: one color imprint, one imprint area only, no proof. Priority service is $35.00 per order.
Custom Samples: Pre-production samples that are to be produced for approval prior to production of a confirmed order are billed at the the unit price based on order quantity plus all applicable charges per catalog item description, ie: art and die/cut charges, muti color/2nd location charges, PMS charges, copy charges, and/or special logo, reverse or curved copy charges.
---
All images contained on this page are © 2019 MRM Advertising, All Rights Reserved