To find out more information or to place an order, contact Martin at (516) 681-5890 or email info@mrmadvertising.com
---
GL 220 Canvas Tote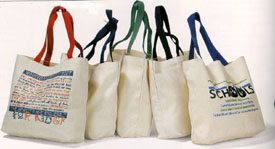 Cotton canvas tote with 21" reinforced handles
Size: 15 1/2" X 12" X 4"
Available in totes-natural, handles blue, teal, black, navy, red
Imprint Area: 10" X 7"
Imprint Colors: black, red, royal blue, green, brown, purple, burgandy, and etc., .

150
300
600
1000
2500
$4.75
$4.25
$3.75
$3.48
$3.45
Setup Charge: $55.00
Second Imprint: $55.00 set-up per color
Special Information: For each additional color add the following per color: $45.00 set-up per color; 50/$.99 per color; 100/$.74 per color; 300/$.$.59 per color; 1000/$.45 per color
---
Art Charges: If art touch-up is required the minimum charge is $25.00. Customer will be notified if charge is greater than $75.00
Cancellation Fees: All orders are considered firm. Cancellations will be accepted only if merchandise has not been printed.
Copy Changes: $45.00 plus all applicable color charges.
Less than Minimum: Published minimum quantities apples for decoration. For less than published minimum a charge of $75.00 will apply. Absolute minimum is 1/2 catalog quantity.
Over/Under Runs: 5% billable.
PMS Color Match Charges no charge
Production Time: 5 working days from date of receipt of the order at the factory.
Product Proof: $40.00 set-up charge plus end price, plus screen, art, and shipping costs.
Rush Service: Call for availability.
Custom Samples: EQP less 30%, plus screen and shipping charges.
---
All images contained on this page are © 2019 MRM Advertising, All Rights Reserved